Workout Blueberry Protein Shake
Blueberry Protein Shake tastes great and is uber fast. Blend 3 ingredients and done! Packed full of protein to get you fortified with vim and vigor!
Exercising is fun! That's right. It takes some willpower to pull yourself away from what you are doing but once you make that move you are on a very good path. What a great feeling.
No matter how busy the day gets there are two things that I just can't miss. A short treadmill walk of just 20 to 30 minutes and then there is under 10 minutes worth of yoga power poses.
The cool thing about the power poses are that they can actually be tucked in here and there throughout the day. Think I'll sit up straight for a couple of minutes and do one right now. Done.
Then there is the all-important pre-workout snack. My favorite is this Blueberry Protein Shake. It is light and filling and so packed full of protein that it keeps me going for a very long time.
Blueberries are not only a fantastic source of protein and antioxidants but also dietary fiber. Woohoo!
How's that for a plant-based shake – It's so thick, and cold, and delicious!
P.S. You can have it as a post-workout snack too.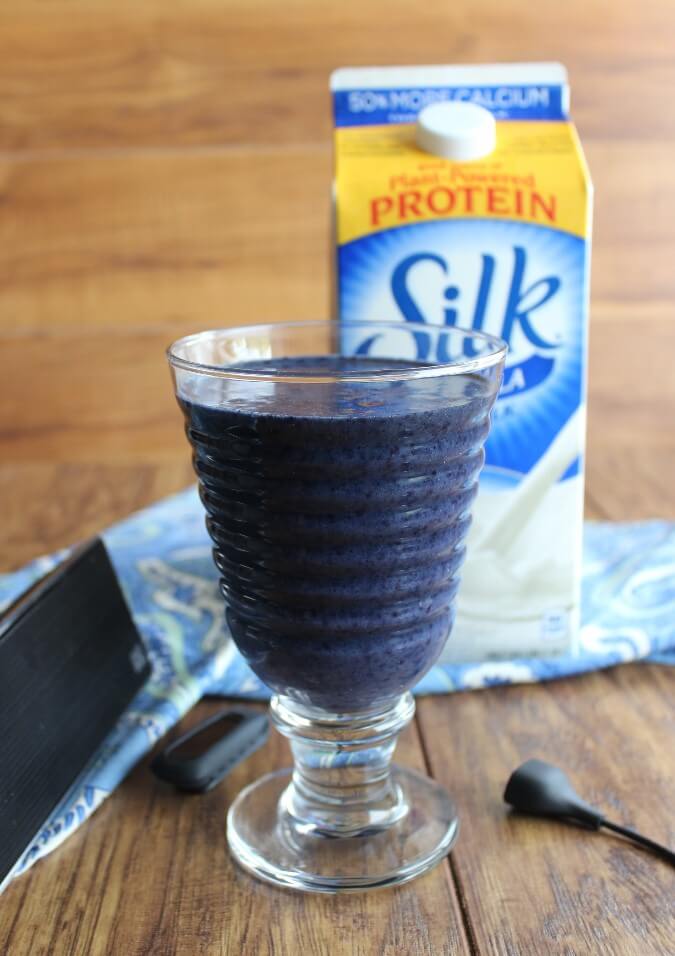 Then you have Silk's Soymilk and there is no other dairy-free milk brand that gives you more protein. Totally non-GMO too. A scoop of protein powder is also added. Yes!
It takes under two minutes to make.
You can use any Silk Soymilk that you like but for this recipe and my morning cereal, I like vanilla because it has that hint of sweetness.
If you get unsweetened and it turns out you think you would like your shake a little sweeter – just add up to a tablespoon of maple syrup. That's all you need.
You know that there are many protein powders for weight loss.  Just look for the vegan ones and use water or dairy-free milk.
I happen to really like Vega and the one that's vanilla.
Add the dairy-free milk, blueberries and protein powder in a blender. In that order.

Blend until smooth. Just a minute.

Drink up the delicious protein!